We are excited to announce the date for our annual Fall Festival. We will be hosting this event on October 14th from 6-8 pm. Please see the attached images.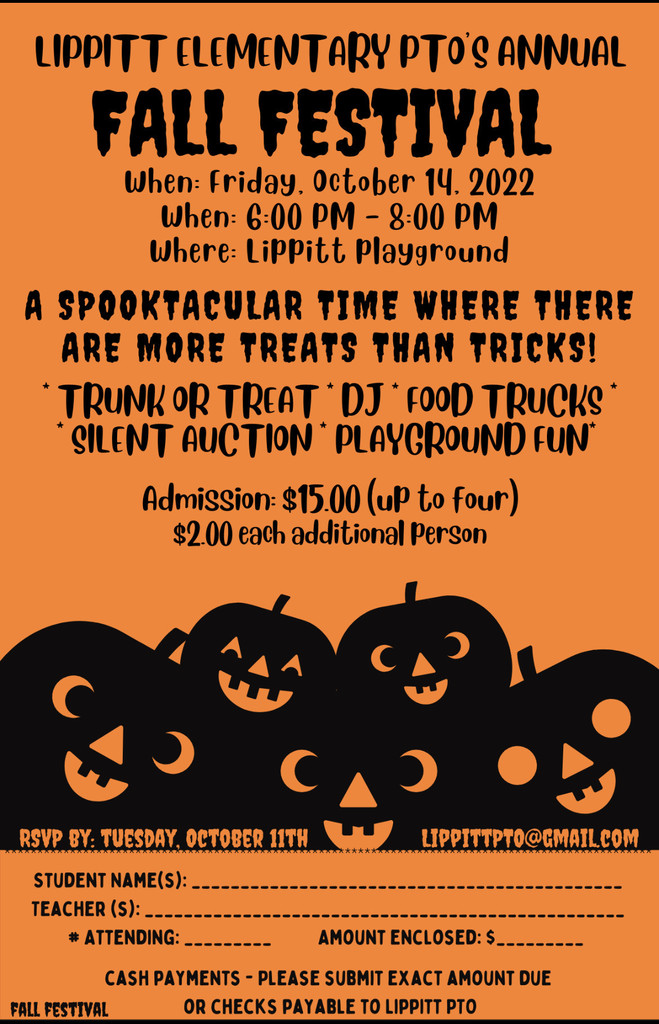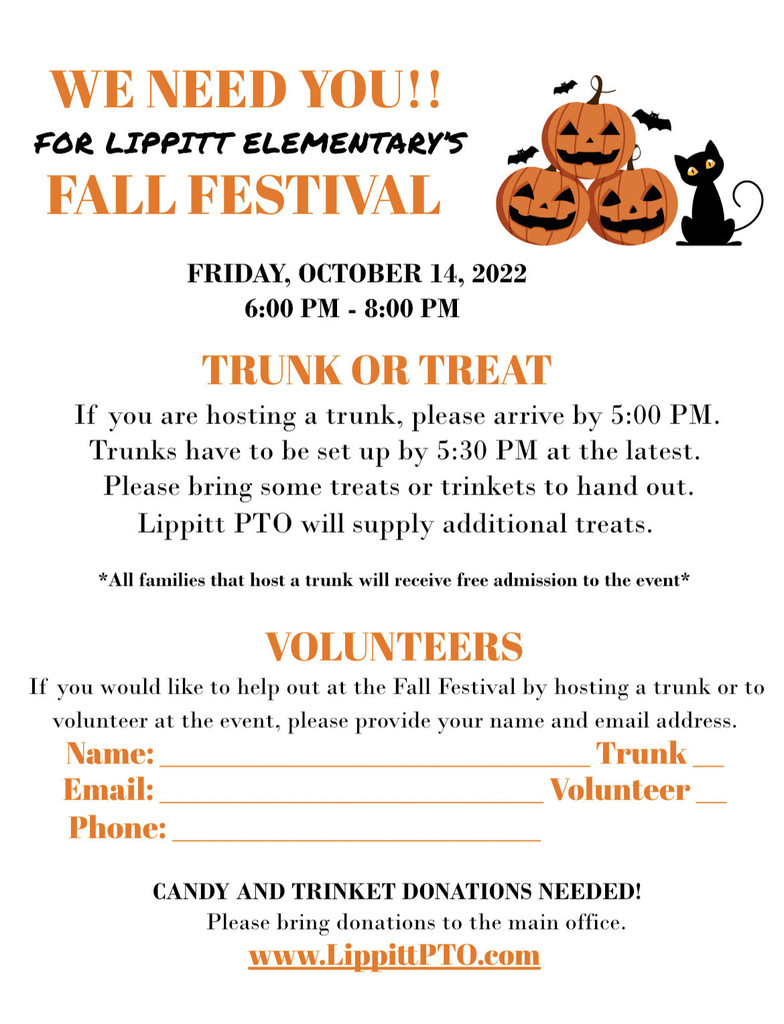 Your October Newsletter from Title I is now available on your school website. This month includes info about our food assistance program, safety resources from our School Resource Officer, and much more!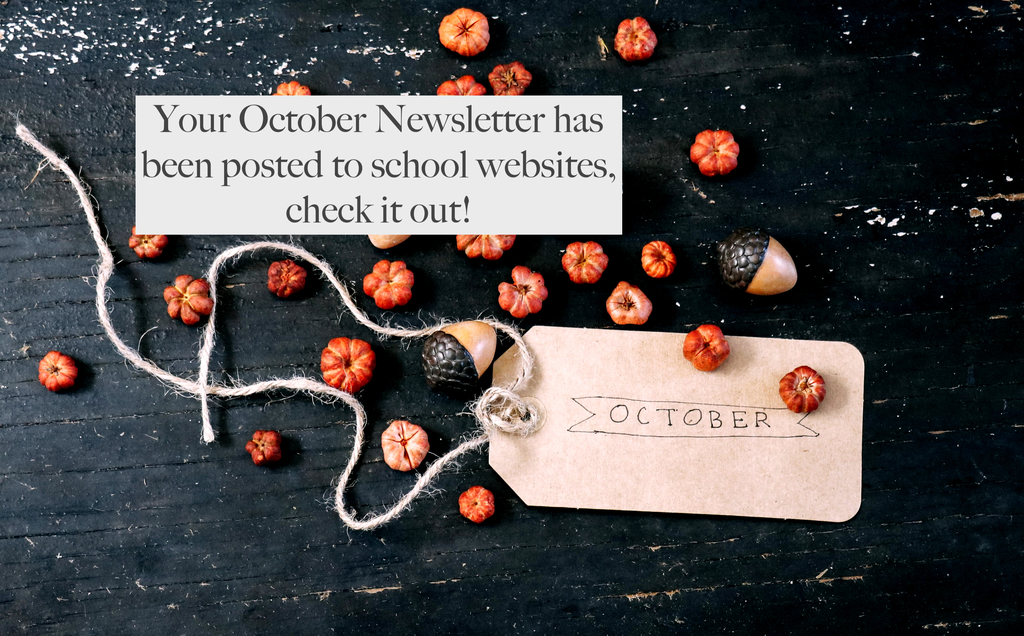 We are very excited to announce the return of the Scholastic Book Fair! The fair will begin next Thursday and will run during the day, during OPEN HOUSE, and on Friday morning for a few late purchases. Please visit our homepage
https://www.scholastic.com/bf/lippittelementaryschool1
***The easiest way for your child to shop is to load funds on their Ewallet via the website above. Even aunts, uncles and grandparents can add money to their wallet- simply share the website with them :) Make sure to follow us on Facebook- LippittPTO
We had a nice turnout at our first PTO meeting of the year. Next month we will host a Meet and Greet 30 minutes before our meeting. Don't forget today is our first Dine Out opportunity.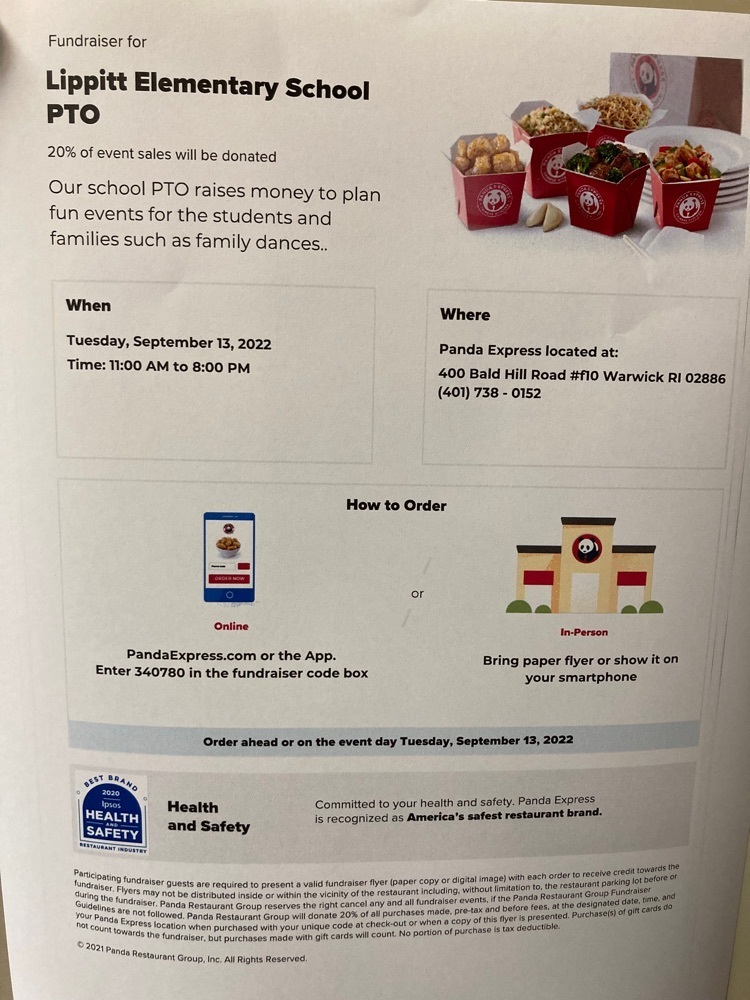 Our Monarch Butterfly Garden has truly transformed over the summer and many caterpillars made their home in the towering milkweed. Here are some pictures of our Garden Club creating the garden and how it blossomed.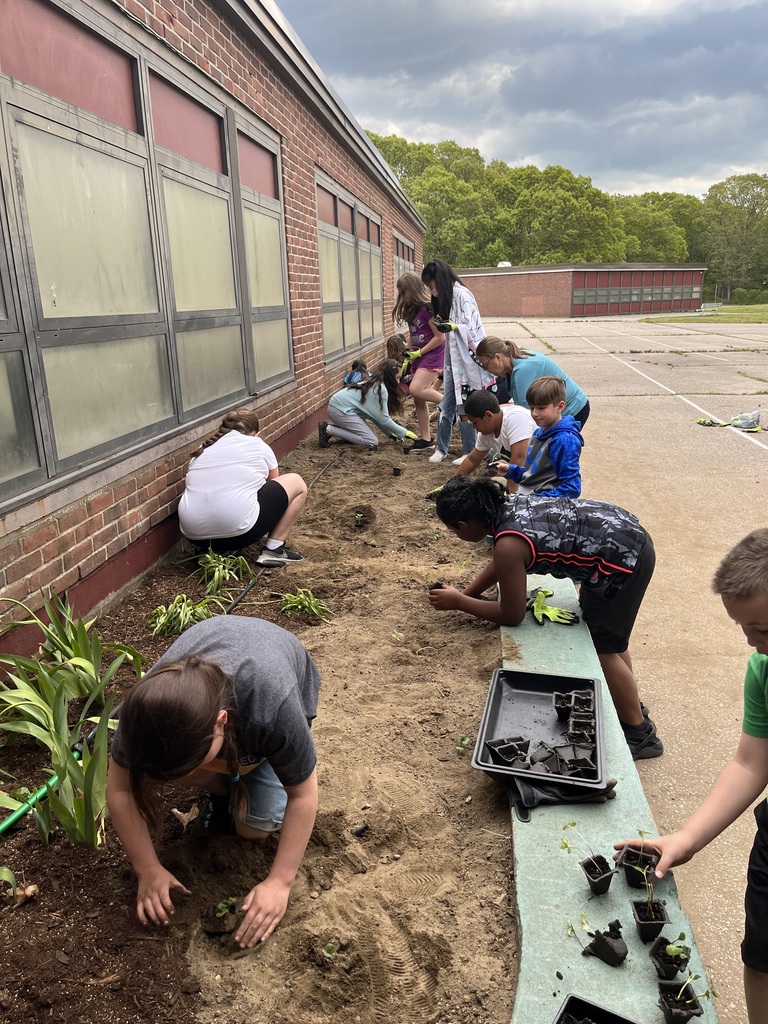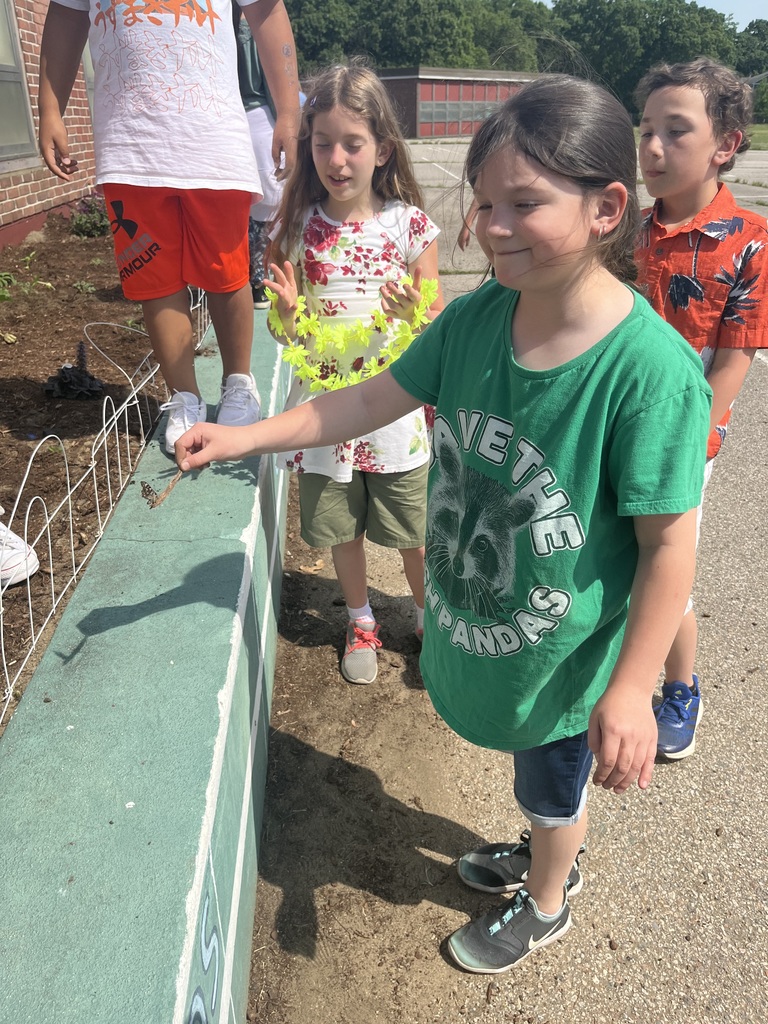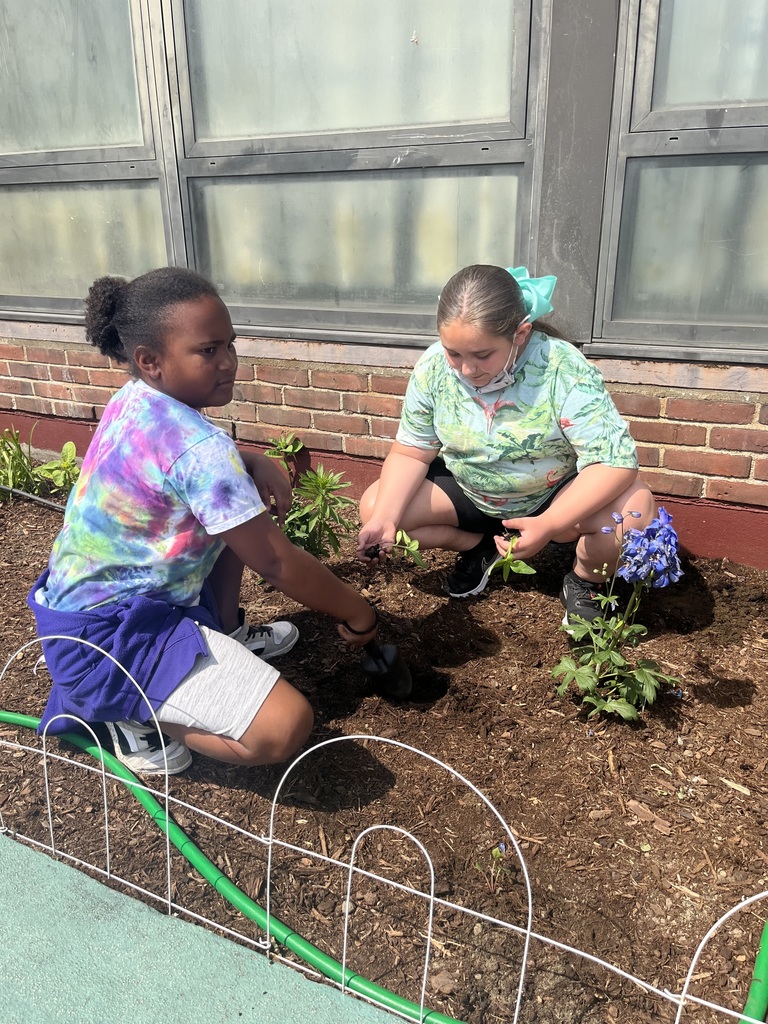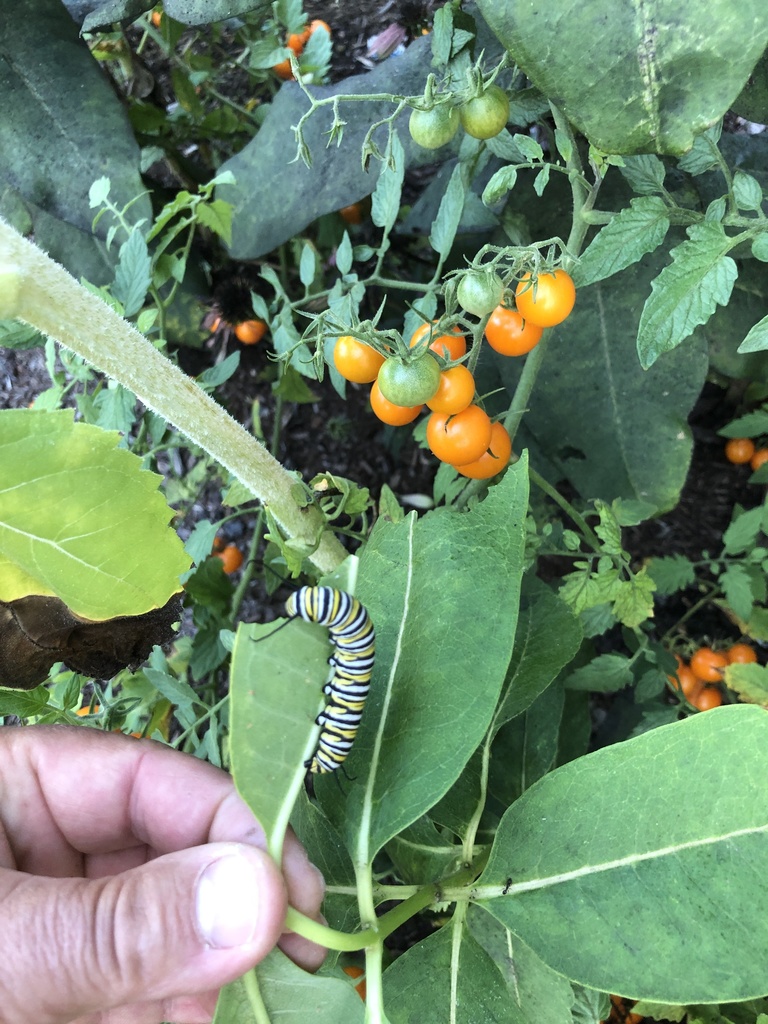 We are hosting our first Lippitt Dine Out event next Tuesday at Panda Express from 11am to 8pm. Please join us as events such as these help raise money for events for our students.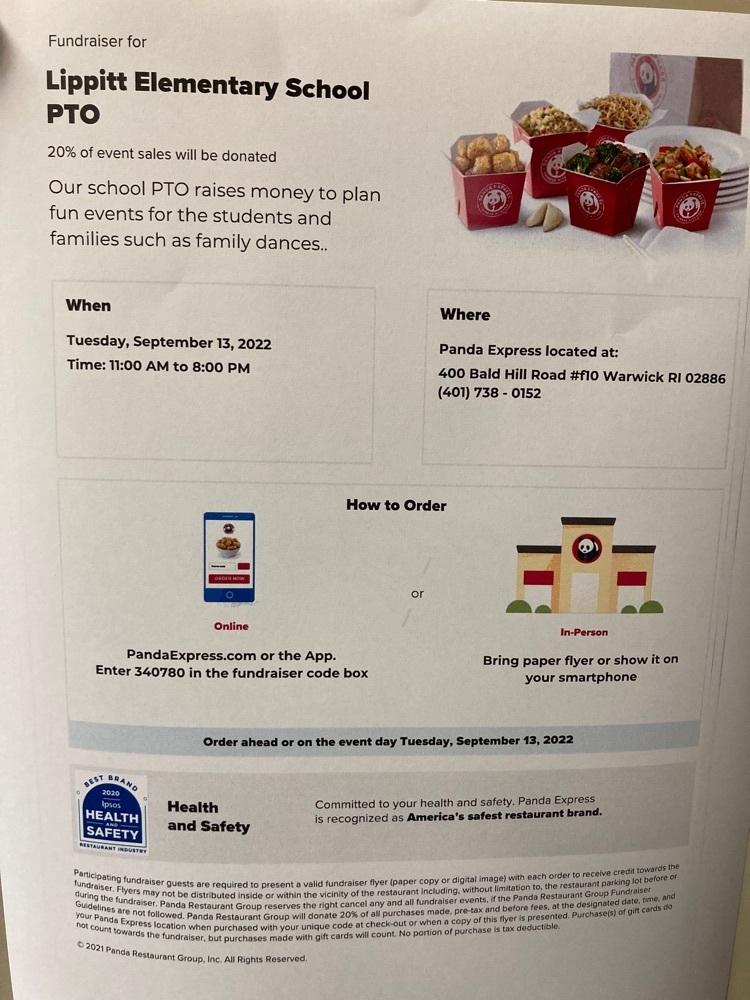 The third episode in a series of videos put together by Warwick Public Schools to provide information regarding the New High School Project is available NOW on our YouTube Channel - WPS Video. Check it out!
https://youtu.be/2vW4c-Bovu0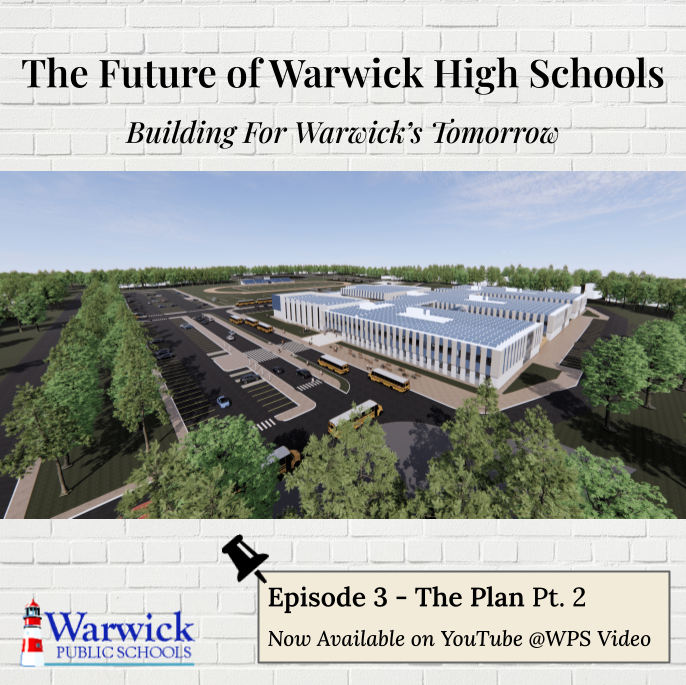 We had a wonderful second day today. Thanks to all of our amazing staff and parents for being patient as we transition to a new year.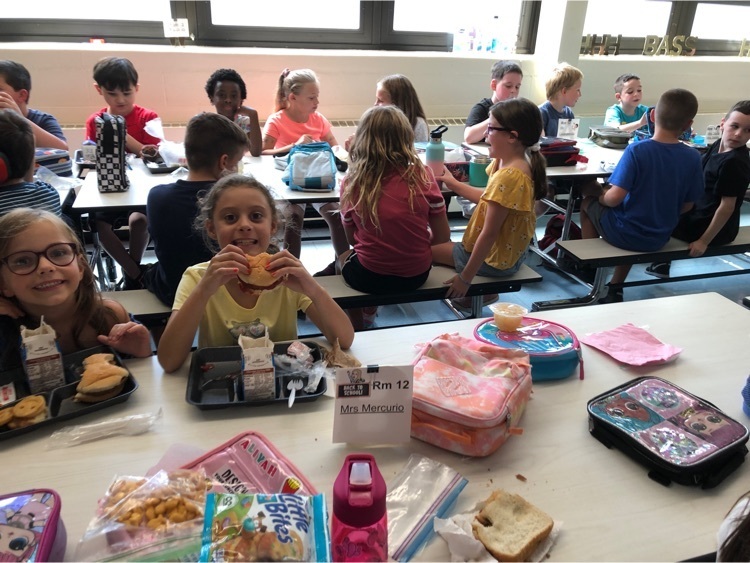 Wishing our students and staff a wonderful 2022-23 school year!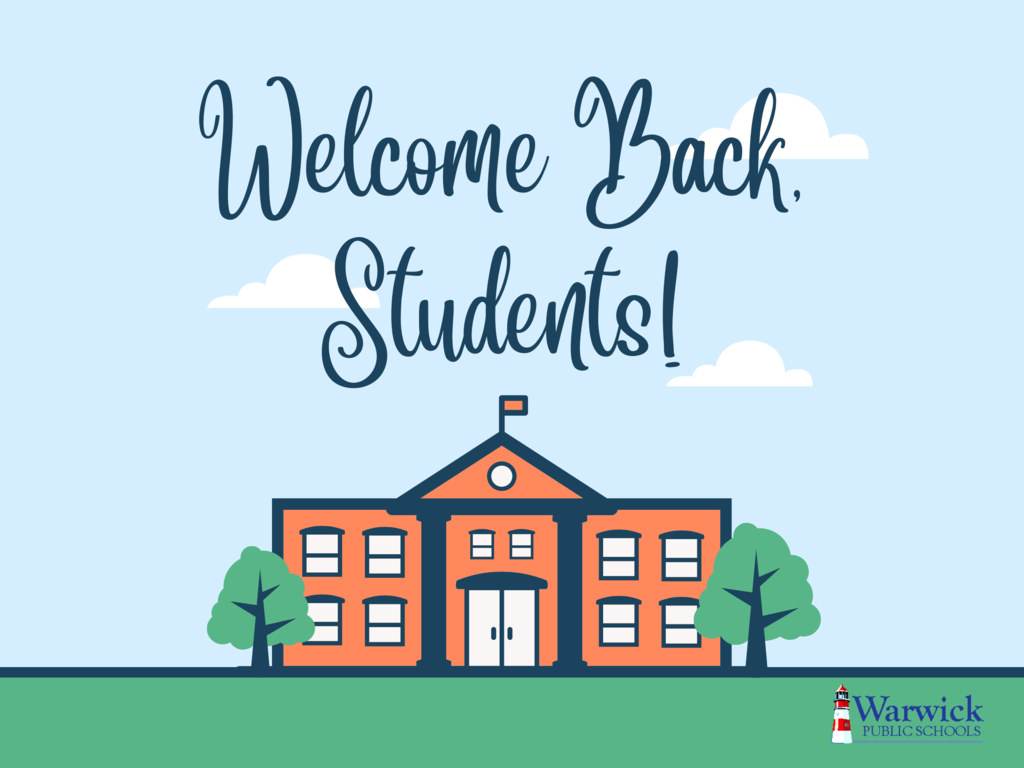 Welcome Back, Title I Families! Your September Newsletter is available NOW in the News section of your school website! Check it out!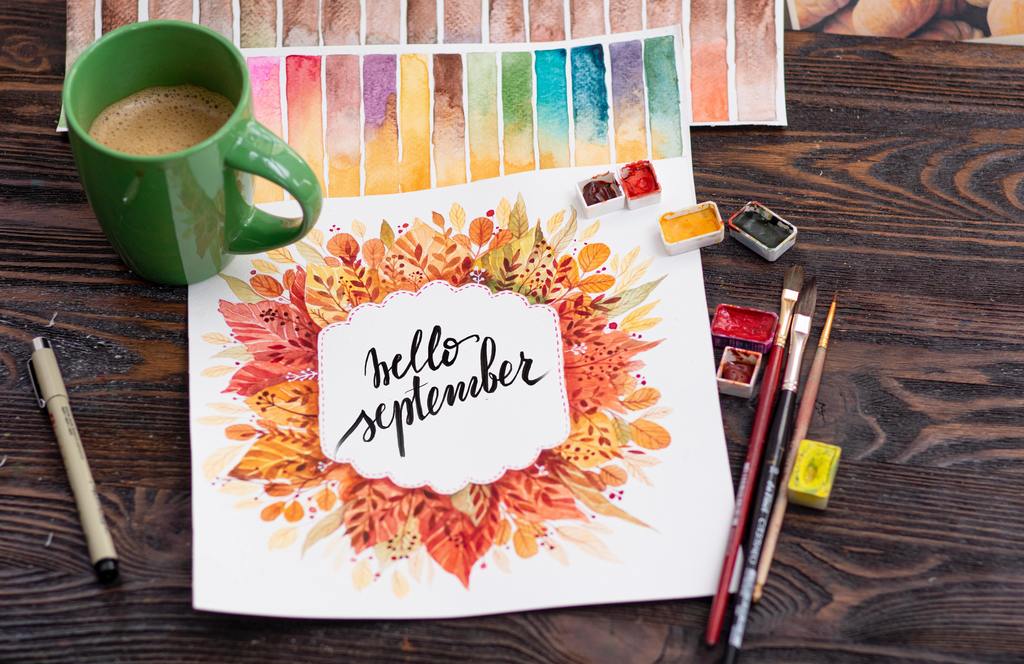 Good Morning, As you might be aware, Warwick's Aspen Parent Portal has a lot of syncing to do as the new year enrollment and schedules upload. I am not sure when families will have access to the portal but I wanted to share our "Wish Lists" for classroom supplies as many of you are getting closer to school mode. The lists can be found under the Resources section on our school webpage. It is an exciting time of the year and our custodial staff as well as our secretary and myself have been working hard to get the school ready for August 31st, our first day of school. We begin our first Kindergarten Transition Camp tomorrow and it will run Monday-Thursday this week from 9-11 am. We have 19 students attending so we are very excited about this program. As usual, we will post class lists at our annual Back to School Bash on August 29th. We are getting new enrollments every day so that is why we wait to publish lists since class lists can change as new student arrive. We look forward to seeing you soon. Mr. Martin Susla


Update! Over the summer months, repairs for elementary students were designated to our 4 secondary schools--Shout Out & Thank You to the staff members who made this possible! Chromebook repairs will now be processed directly through your child's individual school again.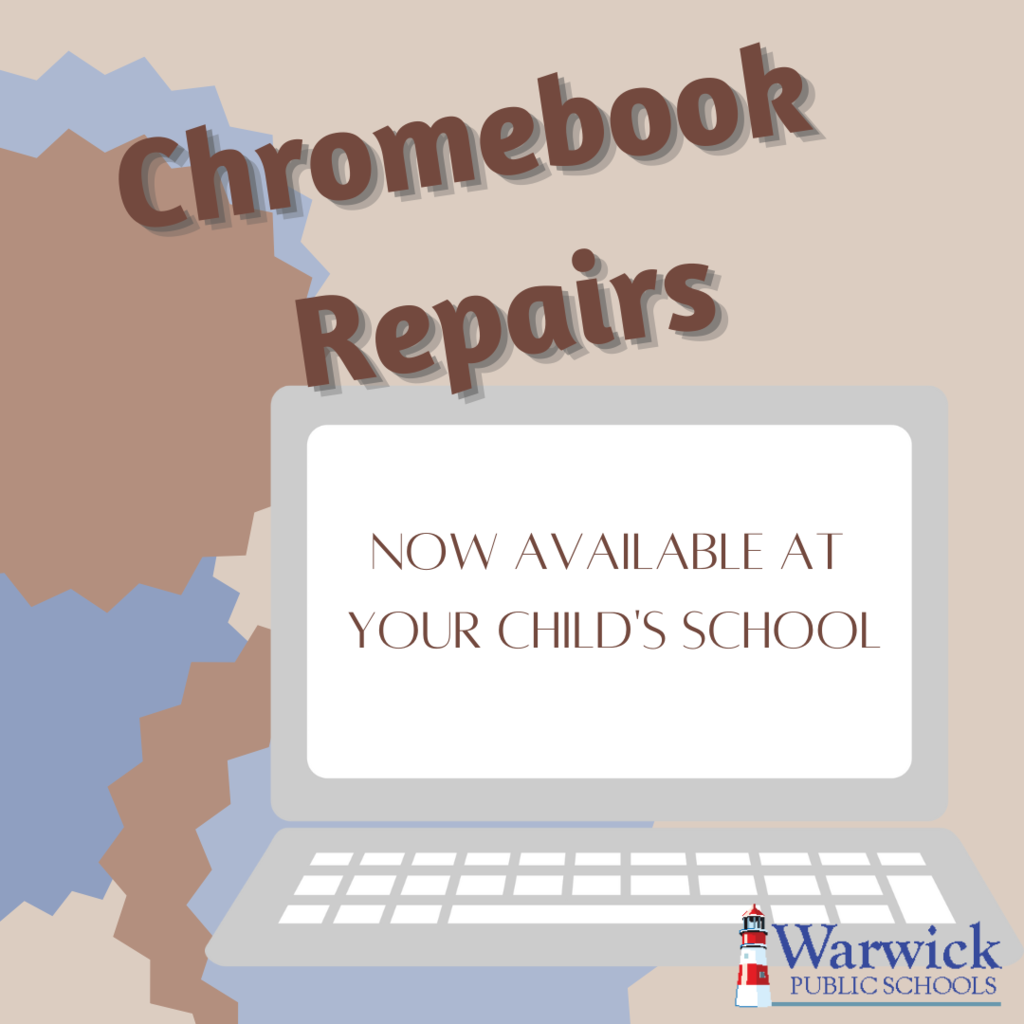 Good Morning, I wanted to share the flier that our PTO created regarding our Back to School Bash on Monday, August 29th. Please join us at our first event and meet many of our teachers and view class lists for the first time. Mr. Martin Susla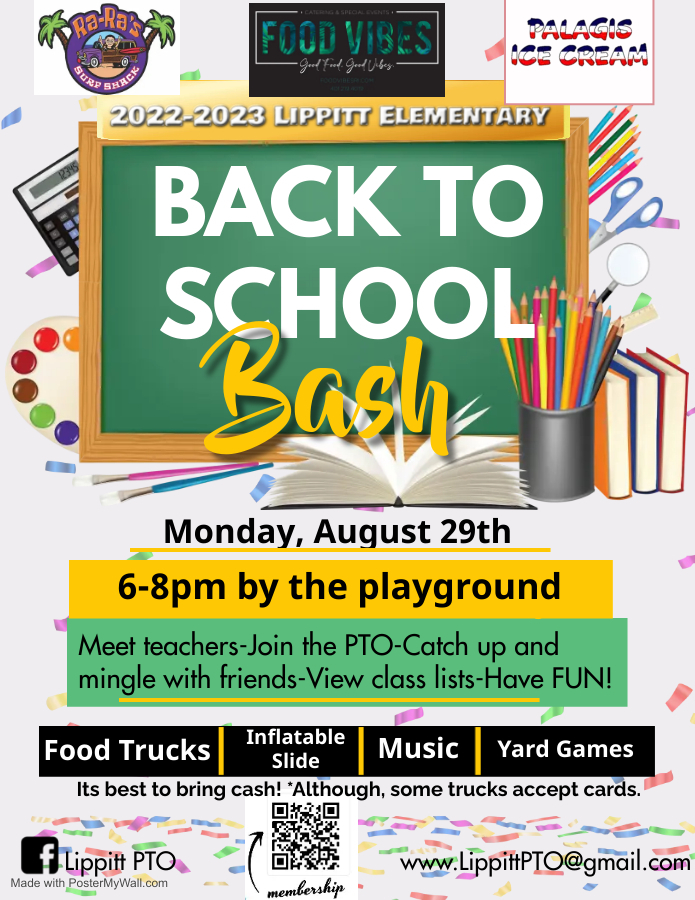 DYK, for students entering 1st-8th, iReady is a summer learning requirement? Continuing to build on and reviewing material is great exercise for our brains! Keep up the great work! Questions?
iready.helpdesk@warwickschools.org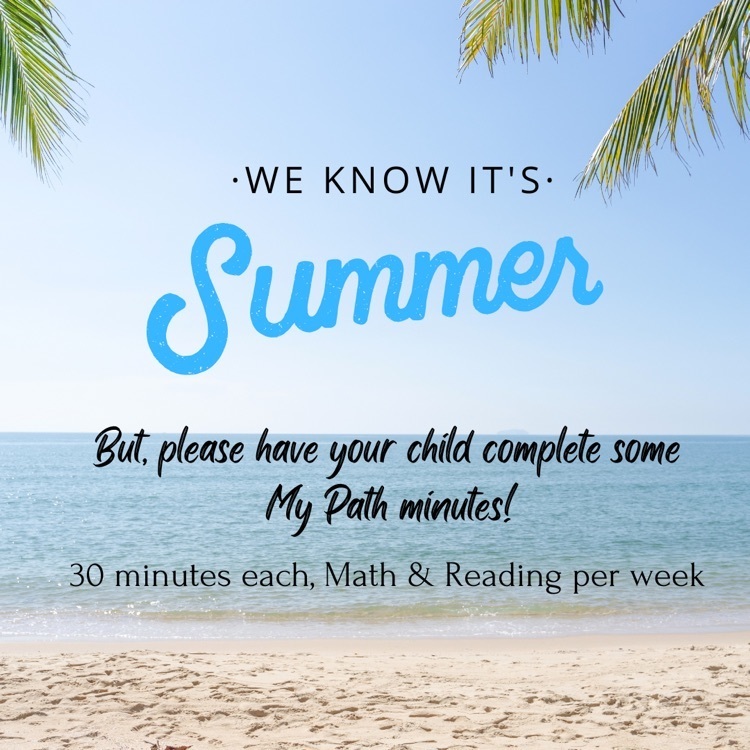 Don't forget that the registration for our Lippitt Kindergarten Transition Camp closes in about a week. We look forward to meeting many of our students for the 4 day camp, from 9-11 am on Mon-Thursday, August 22nd through August 25th. I have received about 3 more emails from parents this week so I know some parents are thinking about it and we currently have about 15 students attending.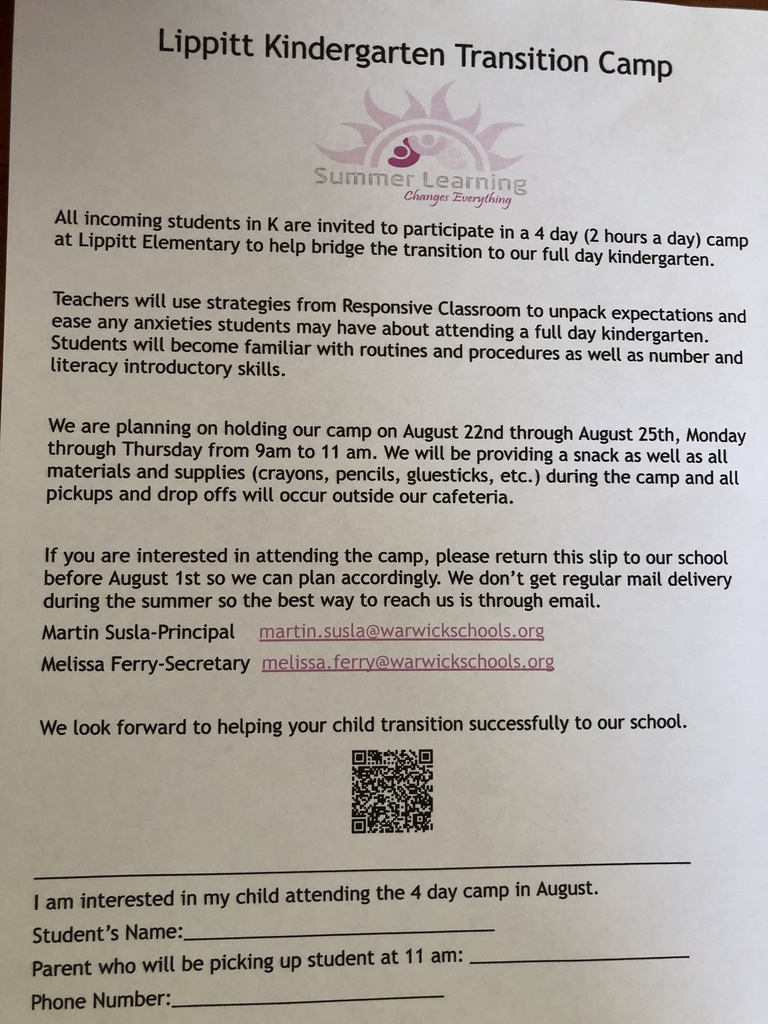 EXCITING NEWS! Our NEW website and app are ready! Visit warwickschools.org and check it out! Watch this brief video for more info on the app
https://youtu.be/8NIY6oIPIfY
We are so pleased to bring WPS into the 21st century and make staying connected as easy as one click!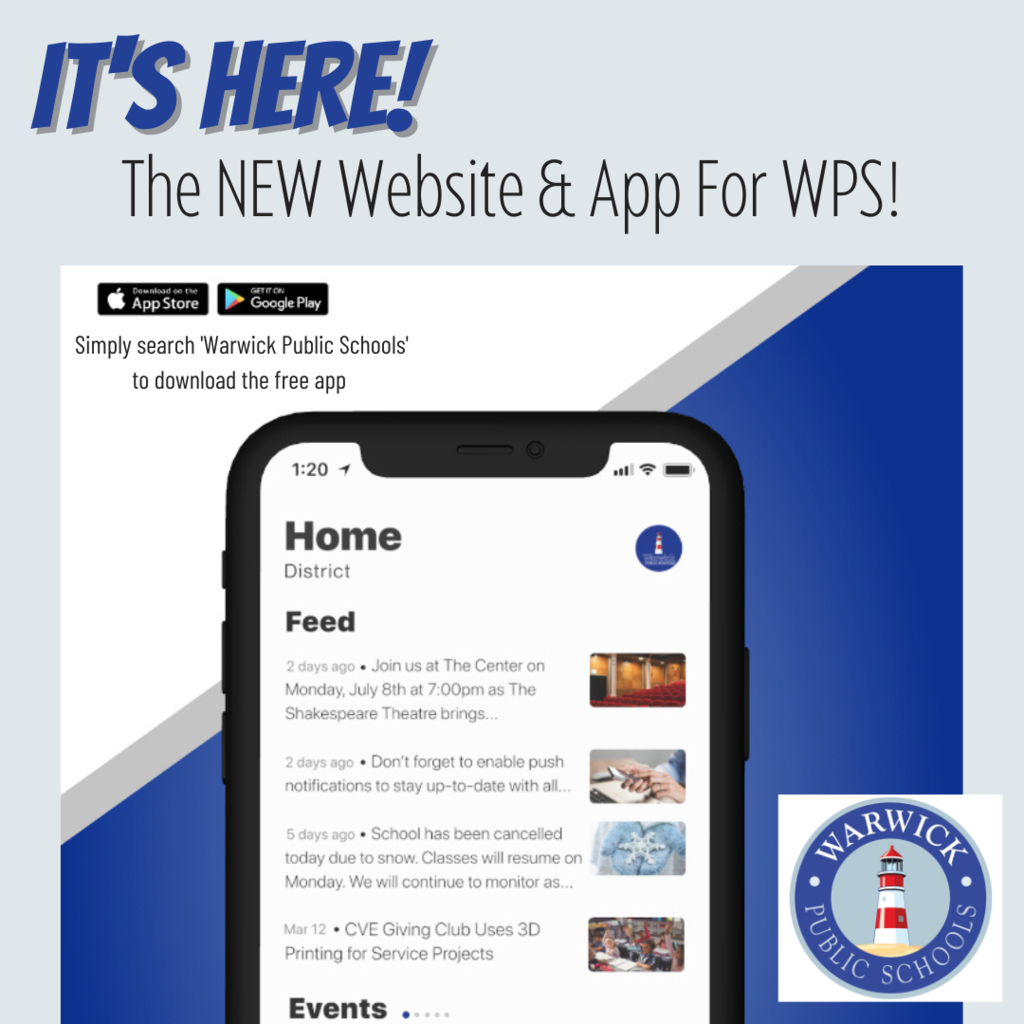 Laying low indoors during this heatwave? Take a few minutes to log into/create your TITAN Family Portal > family.titank12.com Please fill out the meal application, even if you plan to send meals from home, by doing so we receive increased funding for our schools and community!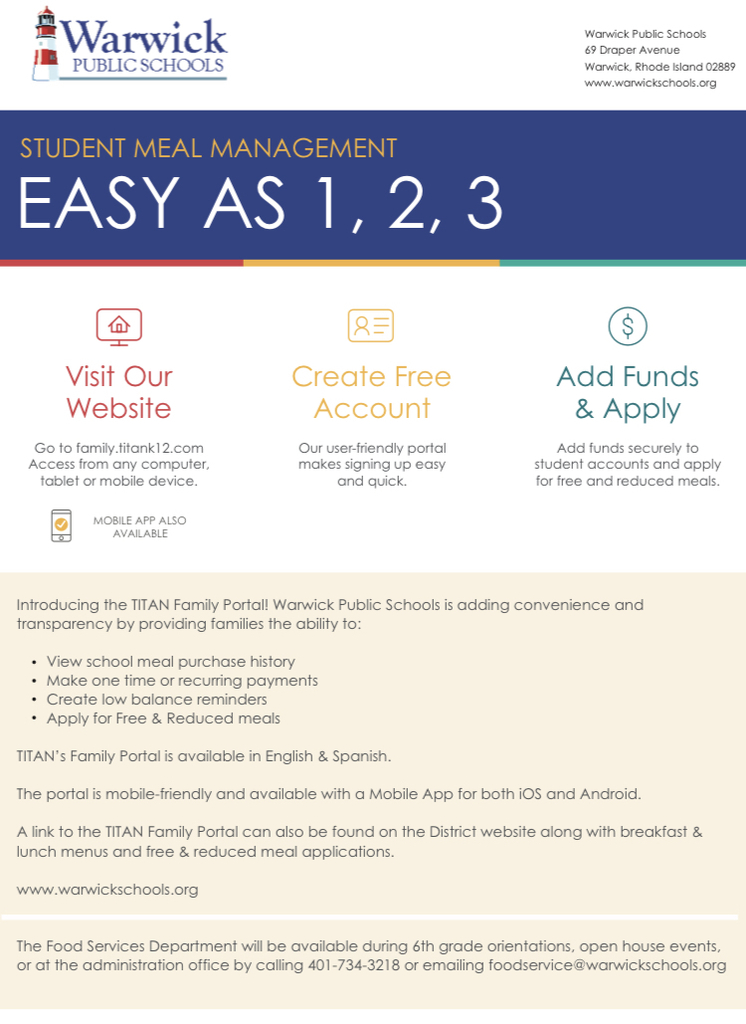 Trying to plan your end of summer fun now, but not sure when the first day of school is? Here is the current 2022-23 school year calendar! First day for students entering K-6 & 9th is August 31st. Preschool, 7, 8, and 10-12th start the following day, September 1st!

Happening Tomorrow! Join us in person at Veterans Middle School, July 12th at 7 PM. Can't make it in person? Tune in to the live stream on our YouTube channel, WPS Video. Links to the agenda and live video will be posted on our Warwick Public Schools Facebook page.